So Trump doesn't go to the WHCD and the Left shows its ass.  And you wonder why he didn't go.
Comedian Hasan Minhaj slammed President Donald Trump and members of his administration Saturday night during the White House Correspondents' Association dinner (WHCA) in Washington, D.C.

The Daily Show correspondent called Trump the "liar-in-chief," ripped the president's immigration policy, and fired off several personal insults at Vice President Mike Pence and Attorney General Jeff Sessions.

"Welcome to the series finale of the White House Correspondents' Dinner," Minhaj's politically-charged monologue began.

"The leader of our country is not here. And that's because he lives in Moscow," Minhaj said to applause from the crowd of celebrities, politicians, and journalists, many of them from the country's largest media organizations.

President Trump was headlining a first 100 days rally in Harrisburg, Pennsylvania — his absence from the WHCD marks the first time in 36 years that a sitting president has missed the event.

"I think he's in Pennsylvania because he can't take a joke" Minhaj said of the commander-in-chief.

"This event is about celebrating the first amendment and free speech," Minhaj said.

"Donald Trump doesn't care about free speech," he added.

Minhaj said he was asked not to mock the Trump White House in the president's absence from the event, but he wasted no time taking aim at Pence, saying the Vice President's wife wouldn't let him attend the annual event "because apparently one of you ladies is ovulating."
Let's stop there and review.  This person, a Muslim, is making fun of Trump,  a man who is sending people into harms way to kill Muslim terrorists in an effort to secure the lives and health of other Muslims.  And TRUMP'S the asshole…?!
This Muslim comedian lives in a world where he can bad mouth the leader of his nation and NOT get immediately killed- unlike Turkey, Syria, ISIS, Saudi, and a half dozen other Muslim led nations, and this guy still doesn't get it.  That's free speech nimrod! And the fact you went home and you found your family safe and no hooded people with machete waiting at your door means you live in America!
And unlike the last LIBERAL president- who did allow for Muslims to kill Muslims in great numbers- you are not being spied on as we speak by sycophants in his NSA monitoring this moron's "free speech".
What Trump wants is TRUE free speech, not the stupid shit this guy was throwing around.
Sooo….. F off!
Now onto his other comments.  Would the comedian show up to such a blood letting if he were the target of the blood letting? Of course not. But Trump refusing to show up was a big mistake. Because…?
And the comedian, who is married to his wife since college, bad mouths Pence for being faithful to his wife and CAREFUL with his career.   I think the comedian's wife should probably check his cell calls.  He sounds like he doesn't get the love and commitment angle in a marriage.
On another note, the comedy channel is starting a show called something like "The President Show".  If they had one for Obama called "I'm a liar and wanted the cash this gig would get me Show"  I would not complain. But this is frankly just all out war.  And the liberals wonder why they are so hated.
These guys and gals
Think this guy is funny when bashing the President.
While these Muslim terrorist guys kill gay people, who support the first guys and probably also think the Muslim comedian is funny.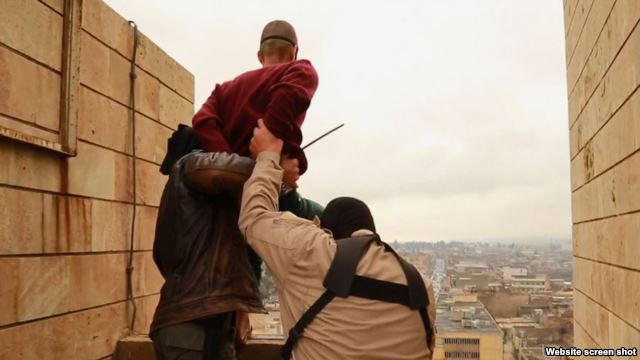 See, suicidal.